About Us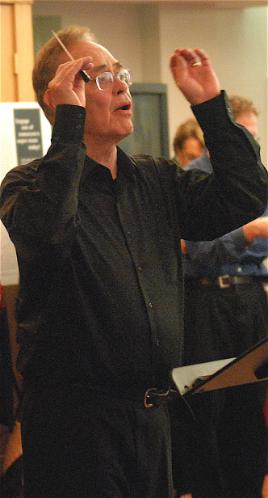 HISTORY AND MISSION
Award-winning Orchestra 2001 celebrates its 25th concert season in 2012-2013. Since the orchestra's founding in 1988, O2001 has grown into one of America's most important cultural institutions, and one of America's most esteemed champions of new music. For three years in a row, (2007, 2008, 2009) ASCAP and the League of American Orchestras recognized the orchestra and Artistic Director James Freeman, as outstanding leaders in the field of new music with their "Awards for Adventurous Programming." As one of only three contemporary music ensembles in the United States that can scale up to a full chamber orchestra, Orchestra 2001 plays an important role in the international musical community.
Orchestra 2001's mission is to "perform and promote the music of the 20th and 21st centuries, premiering new works, providing a major focus for the best new music of our time, while introducing unknown older works, and reaching out to regional and international audiences through recordings and tours". The commitment to performing contemporary music is unparalleled. The record speaks for itself: over 90 world premieres, 105 Greater Philadelphia premieres, over 250 works by 130 American composers, of which more than 150 works were by 60 Philadelphia-area composers. Our recordings, by a wide array of American composers, have received glowing reviews.
Orchestra 2001 has had a strong impact on the lives of composers, young and old. Pulitzer Prize-winning composer George Crumb has written seven monumental "American Songbooks," all premiered and recorded by Orchestra 2001. Through its recordings (for CRI, Bridge, Albany, Centaur, and Innova Records) and its tours abroad (Russia, Denmark, England, Slovenia, and Austria) Orchestra 2001 has brought new American music to countless new audiences. Orchestra 2001's dedication to the performance of American contemporary music is unparalleled. In our 22 seasons, we have presented more than 90 world premieres and over 250 works of which more than 150 works were by 60 Philadelphia-area composers.
Orchestra 2001's name pointed to the future when the ensemble was founded in 1988. Today its name, by now indelibly associated with landmark performances and recordings of new music, marks the beginning of the 21st century and points in a new way to the future of the music of our time.
ARTISTIC DIRECTOR and STAFF
James Freeman, the artistic director and conductor, founded Orchestra 2001 in 1988. He was trained at Harvard University, Tanglewood, and Vienna's Academy for Music. He counts among his principal mentors the pianist Artur Balsam and his father, double bassist Henry Freeman.
Mr. Freeman's many honors include two Fulbright Fellowships, grants from NEA and NEH, the German Government, Harvard University's Paine Traveling Fellowship, and in 2009 the city of Philadelphia's Liberty Bell Award. As conductor, pianist, and bass player, his performances in America and abroad have won critical acclaim. He has recorded for CRI, Nonesuch, Columbia, Turnabout, AR, MMC, Bridge, Albany, Centaur and Innova Records.
Adam Lesnick, Executive Director, alesnick@orchestra2001.org
William Gatti, Administrative Director, wgatti@orchestra2001.org
BOARD of DIRECTORS
Lionel Savadov, Chairman
David R. Devoe, PresidentA
Andrew Rudin, Vice President
Jay Reise, Secretary
Jonathan Hodgson, Treasurer
May-Tchi Chen
Kevin J. Cope
Jean A. Dowdall
Joseph F. Flynn III
Kendall Landis
Stephanie Lewis
Robert P. Morgan
Joel Porter, MD
Dell Venarde
ADVISORY BOARD
Natalie F. Anderson
Jody Karin Applbaum
Marcantonio Barone
Richard Brodhead
George Crumb
Tina Davidson
Miles B. Davis
Marc-Andre Hamelin
Jennifer Higdon
Gilbert Kalish
Gerald Levinson
Ann McNamee
Diane Monroe
Marian McPartland
Kent Nagano
Peter Nero
Sandra Plaff
James Primosch
Christina Rusnak
Peter Schickele
Gunther Schuller
Norman Speilberg
Melinda Wagner
Subscribe to Our E-Mail List
Become a VIP and Receive Exclusive E-Mail Offers
Links
---
Orchestra 2001
administrative office
Address:
26 South 20th Street
Philadelphia, PA 19103
267-687-6243